Tyvek® is Partnering Across the Value Chain to Tackle Critical Challenges in Healthcare Waste Recycling
On Earth Day 2021, DuPont™ Tyvek® is proud to further expand our ongoing sustainability efforts in coordination with our authorized converter, PAXXUS, and our recycling partner, Freepoint Eco-Systems LLC1, to help better enable closed loop utilization of plastic waste generated during packaging production. These efforts reiterate our commitment to enable sustainable production cycles in healthcare packaging manufacturing.
Understanding the Challenges
As a materials supplier and sterile packaging manufacturer, respectively, Tyvek® and PAXXUS are incredibly proud to serve the healthcare industry by producing packaging products that exhibit high strength, offer superior microbial barrier, and maintain sterile integrity from production all the way through to the point of use, which help provide peace of mind to healthcare providers and save lives worldwide. In parallel, recognizing that now, more than ever, is the time to strengthen our commitment to maximize responsible production practices throughout the healthcare packaging value chain.
Adopting Advanced Recycling Techniques
One way to accomplish this is to help ensure that healthcare packaging production waste is diverted from landfill and incineration towards outcomes that are more environmentally responsible. This is why Tyvek® roll stock production waste, which consists of high-density polyethylene (HDPE), is already effectively repurposed at its point of manufacture in Richmond, VA (USA) and Luxemburg (Europe). However, because PAXXUS' sterile packaging waste stream consists of multiple materials that are not readily amenable to sorting, recycling is inherently more challenging.
To help address this challenge, DuPont and PAXXUS have partnered with Freepoint, a developer of advanced recycling systems, to better enable closed-loop, carbon neutral plastic utilization. With advanced recycling facilities under development throughout the country, Freepoint will accept mixed-material plastic waste in multiple forms, with at least 50% of the waste being converted to new, "virgin quality" plastic. By converting waste plastic (which is derived from petroleum) into reusable products, less new oil production is required thereby providing significant environmental benefits. Freepoint estimates that just one of its advanced recycling facilities will reduce greenhouse gases (GHG) by an amount equivalent to removing 450,000 cars from the road per year. This reduction in GHG will protect ecosystems on a global scale. Freepoint's advanced recycling system itself is also self-sustaining in that it uses a portion of the waste plastic to power the facility, drastically reducing usage of other forms of energy.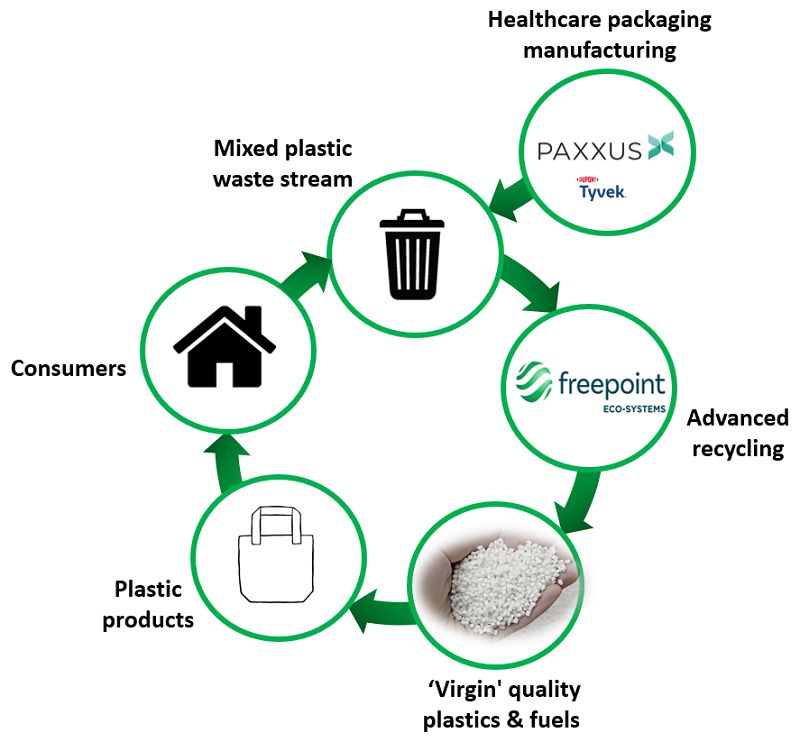 "Freepoint is very pleased to be partnering with DuPont and PAXXUS on this important project," said Kat Doerr, Vice President of Freepoint. "Our advanced recycling systems employ proven pyrolysis technology. We are committed to diverting plastic waste produced by the healthcare packaging industry and other sources, from landfill or incineration so that it can be converted into usable products for a sustainable environment." Compared to incineration which operates under a Title V Air Permit, the advanced recycling facility operates under a minor source air permit while processing the same amount of, if not more, plastic.
Freepoint has already begun receiving mixed material waste containing Tyvek® and a variety of packaging films from PAXXUS, enabling diversion of almost all of their mixed material waste from incineration. ''Waste reduction and repurposing in the healthcare packaging value chain requires partnerships that integrate resources, knowledge and expertise. We are proud to support our value chain partners as we work together to find innovative solutions to help reduce our overall collective footprint," said John Richard, Vice President, DuPont Safety.
"Positively impacting lives is at the center of everything we do. We pledge to constantly improve our performance and promote the use and development of sustainable technologies. PAXXUS is proud to lead the healthcare packaging industry in recycling healthcare packaging waste streams that have historically proven difficult to recycle," said Dhuanne Dodrill, CEO of PAXXUS.
---
1About Freepoint Eco-Systems
Freepoint Eco-Systems LLC is a developer of advanced recycling facilities.  Freepoint Eco-Systems is a wholly owned member of the Freepoint Commodities group of companies. Founded in 2011, Freepoint Commodities LLC is based in Stamford, CT with over 500 employees worldwide. Freepoint Commodities is a merchant of physical commodities and a financer of upper and mid-stream commodity-producing assets. Freepoint Commodities also provides physical supply services and related structured solutions for counterparties.  More information on Freepoint Eco-Systems is available at https://freepointecosytems.com.